Samantha Tonge Interview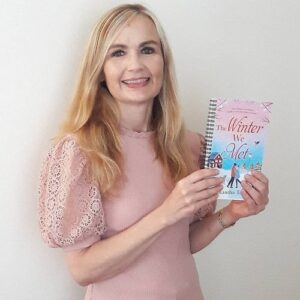 I'd like to welcome Samantha Tonge to my website. I also want to thank you for taking the time to answer my questions.
My pleasure, thanks for asking me, Theresa!
Samantha is one of the writers in the book By My Side. Her story in the book is "Missing Piece of the Jigsaw".
Could you tell us a little about the story?
Chance encounters fascinate me – my new novel, The Winter We Met, is about a woman who sits in the wrong seat on a plane and meets someone – and Missing Piece of the Jigsaw is about two people's paths crossing in a hospital, in the Accident & Emergency department; it's about how that haphazard meeting potentially changes both of their lives.
That's the amazing, sometimes scary, but often exciting thing about life – you just don't know what is around the corner.
__________________________________________________________________
I was happy for you when back in February 2020 a post from you popped up in my Facebook feed announcing that you were 'shortlisted for the RNA's Jackie Collins Romantic Thriller Award!' Yay!
Thank you!
Could you share how it felt to be shortlisted?
I couldn't quite believe it. Knowing You was the second book in a change of direction for me, something darker and more emotional. I'd put my heart and soul into it and was absolutely thrilled to have this accolade, considering I'd been out of my comfort zone writing it.
There is a saying, 'It's an honor just to be nominated.' Did you have that mindset as you were waiting for the results?
Yes. I absolutely did and was 100% convinced that one of the other contenders – all of them amazing authors – would win. And that was fine with me – it was just such a thrill to be nominated alongside them.
For my readers that may not know, you have both the honor of being nominated and the honor of winning. Congratulations!
Thank you so much! No one was more surprised than me when my name was read out, everything kind of went into slow motion for a moment. It was a dream come true and an evening I will never forget.
Please tell us about the Jackie Collins Romantic Thriller Award.
It was the inaugural award this year, the first after Jackie Collins' death. She wrote 32 novels, sold half a billion books and is a source of great inspiration to me. Simon and Schuster are sponsoring the award for five years. Jackie's granddaughter handed me the award which was the icing on the cake.
We hope you'll share details about your award winning book, Knowing You.
Knowing You is about not fitting in but being brave enough to stand out from the crowd and be truly authentic. It's also about how best friends may not be what they seem. I had a best friend once who took me to the brink, and she still pops into my life now and again to cause trouble. I write a note at the end of the book to explain this part of my life to readers and why I wrote this particular story about goodhearted Violet, a children's publisher.
Do you have the crystal trophy displayed or do you keep it tucked away?
I have it on a cabinet shelf in the lounge, alongside another one I won for my contemporary romance Game of Scones in 2015. I've very proud of both of them. I love being an author but it can be an up and down career and if I'm going through a challenging time, they remind me of the positives.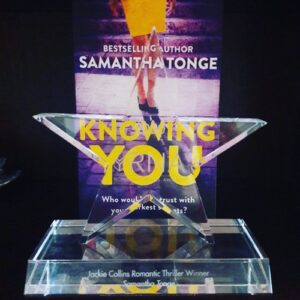 How can readers learn more about you and your books?
https://twitter.com/SamTongeWriter
https://www.facebook.com/SamanthaTongeAuthor/
Instagram @samanthatongeauthor
Website: http://samanthatonge.co.uk/
Do you have anything else you'd like to share?
My new contemporary romance – my 14th book – The Winter We Met is about a care home, Christmas party and toy shops.
I loved writing a story that revolved around the older generation and am thrilled readers have taken to the characters in Willow Court – conspiracy theorist Alf, friend to everyone Alice, glamorous but confused Pan, former firefighter, jolly good fellow Fred, and smart but uptight Glenda.
Samantha, thank you for sharing your personal writing story with me and my website followers.
Thanks for having me Theresa!
And I wish everyone good health at this challenging time.
Please follow and like us: