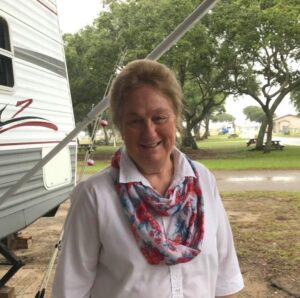 I am so excited to welcome Carole Brown back to my website. Carole has been busy. I'm pleased to let my readers know Carole has released another book, and the title is: Catch Me If You Can, Book one of The Nursery Rhyme Series.
I'm intrigued by the title of the book and the name of the series.
Q: What is the story behind the book's title and the series' name?
A: As for the series title, I can't remember how I actually came up with the series name. CMIYC is actually the FIRST novel I ever wrote. I've just held on to it through edits, editors loving the essence of it, etc. until the right time came. And that was this year.
You see, I hope to write at least three books from nursery rhyme ditties.
The Gingerbread Man (identity): the antagonist identifies with the rhyme for a reason so much that he feels indestructable.
Little Miss Muffett (Spiders): one of the characters is extremely allergic to spider bites and has an extreme phobia of them.
Ring Around a Rosie (death): this rhyme was sung back in the dark ages when the Black Death was prominent. The antagonist has a misguided fixation of getting rid of the whole Layne Family and began with Tara's older brother, Tory. And that means the whole family. The story's setting is a just-discovered dig site for long ago dinosaurs in Montana area. Tara's grandfather, Poppy, the archeologist, is working there.
In CMIYC, the character identifies with the Gingerbread boy; hence the Run as Fast as You Can, You Can't Catch Me.
In the second book (tentative title): Along Came a Spider, the protagonist has not only a phobia of spiders, but also is extremely allergic to them.
In the third book, (We All Fall Down) the whole Layne Family is together, and the antagonist is out to kill all of them.
Q: Could you share with my readers details about your book?
A:
It is a Romantic Suspense with a touch of quirkiness in it.
The overarching suspense is why and who killed Tara's oldest brother. It will carry through all three books.
The overarching romance is between the two protagonists and will carry through all three of these books.
Each book will have separate suspense mysteries to be solved in that book. Romance will be in each book, but the final romantic theme will be in Book Three.
Tara Layne, Wesley Clarke and Boet will be the three main characters in each book.
Each book will have a touch of quirkiness in it. That adds a tone of lightness and fun in the books.
Catch Me If You Can Blurb

The big cat sat on the oversized rock, ears pointed toward the sky, every muscle taut, every sense at the ready.
"S-s-shut up and f-f-forget it. You've s-seen nothing and know nothing. I won't warn you again. G-g-got it?"
The cat's head swiveled, his ears twitching as if catching the hint of threat in the whisper. A soft hiss slid from his open mouth and reinforced the overtone of evil pressing in upon the scene. Within hours, lies and dark secrets are slithering all over the campground.
Coaxed into finding the animal killer at Jamieson's Outfitters, Tara Layne, with her sidekick, Boet, is welcomed by a threatening whisper and the unfriendly eyes of a rugged and devastatingly handsome manager. Wesley Clarke, both interesting and frustrating, holds an attraction for Tara that is both primitive and exasperating.
Intermingled with her search, Tara deals with her own heartbreaking buried secrets. When a strange old Native American probes into the recesses of her heart, he encourages her to face her bitter feelings.
As Tara closes in on her search, she finds herself—and Boet—the target of someone who's determined to outrun and outsmart her. Someone determined not to get caught.
His theme:
Run as fast as you can, you can't catch me.
The question:
Can Tara run fast enough to catch this real live Gingerbread boy
before he decides to get rid of her and Boet?
Buy the book here:
https://www.amazon.com/gp/product/B09B81SN5Y/ref=dbs_a_def_rwt_bibl_vppi_i5
The cover of your book is beautiful.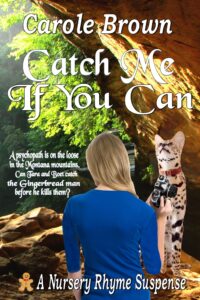 Q: Who designed your cover and how much input did you have in the design?
A: I usually use the publisher I'm using to create the covers.
I'm usually asked what the book's about, something about the characters, etc. On one of my books, I described a stream, a mother and her two daughters. The cover designer did it perfectly the first time, and I doubt I'll ever want to change it.
As for Catch Me If You Can, I described the person, the cat, etc. This cover went through just a few changes before we hit on the perfect cover. It's colorful, catches the essence of the book and the characters. I'm thrilled with it!
Bloggers and Excerpts
Congratulations! Your book is mentioned on many websites and some have included excerpts from your latest book.
As a writer, I know the importance of networking and getting information out about your books to as many readers as possible.
Q: What steps can a writer take to start connecting with bloggers?
A: When I first started out as a published author, I asked for interviews/guest posts opportunities. Most of the time it was a general request–like on a group site. That, and asking friends or people I knew if they would mind having me as a guest. Nowadays I have several blogs that I routinely visit. Occasionally, I will visit other places too. It's just a matter of watching for opportunities where you can share about your books. All about promoting.
Catch Me If You Can Excerpts
Excerpt One: https://happywhenreading.wordpress.com/2021/07/16/catch-me-if-you-can/
Excerpt Two: https://blissbooksandjewels.com/special-book-feature-excerpt-catch-me-if-you-can-by-carole-brown/
Excerpt Three: https://hookmeinabook.home.blog/2021/07/17/catch-me-if-you-epic-book-launch-and-except/
Excerpt Four: https://splashesofjoy.wordpress.com/2021/07/17/catch-me-if-you-can-epic-book-launch-for-carole-brown/
Excerpt Five: https://lakesidelivingsite.wordpress.com/2021/07/17/catch-me-if-you-can-by-carol-brown-epic-book-launch/
Excerpt Six: http://amandanicolle.blogspot.com/2021/07/catch-me-if-you-can-excerpt.html?m=1
Excerpt Seven: http://nannie3.blogspot.com/2021/07/catch-me-if-you-can-by-carole-brown.html
I love your choice of your secondary character, Boet.
Q: How did you choose the name and why did you choose him?
When I decided to switch from my first choice of a pet for Tara Layne, I researched, wanting to get one as quirky as my first choice. And I found him. Cats are so quirky, in that they normally don't allow their owners to "own" them. They own their owners, if you know what I mean.
I came across a Savannah cat that is a cross between a Serval African wild cat and a domestic cat. The characteristics were so fascinating and fit the story so well, that I was convinced a Savannah cat was the perfect pet for Tara and her unique family. As for the name, since he's part African, I wanted a great name for him, originating from Africa. Boet was the perfect name!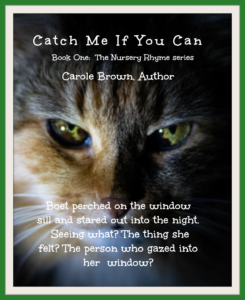 Q: Do you have any updates you'd like to share with my readers?
A: The second book in The Troubles in the West series, Hunter's Rose, is scheduled for release next year, as well as the sixth book in the Appleton series: Ne'er the Twain Shall Meet. I plan to continue work on the second book in The Nursery Rhyme series, as well as plot out several others.
Thank YOU so much for allowing me to visit again. I so appreciate it!
To learn more about Carole, please check out her bio:
Bio:
Besides being a member and active participant of many writing groups, Carole Brown enjoys mentoring beginning writers. An author of thirteen, best selling, award-winning books, she loves to weave suspense and tough topics into her books, along with a touch of romance and whimsy, and is always on the lookout for outstanding titles and catchy ideas. She and her husband reside in SE Ohio but have ministered and counseled nationally and internationally. She has found that the traveling and ministering has served her well in writing her novels. Together, they enjoy their grandsons, traveling, gardening, good food, the simple life, and did she mention their grandsons?
Personal blog: http://sunnebnkwrtr.blogspot.com/
Facebook: https://www.facebook.com/CaroleBrown.author
FB Fan Page: https://www.facebook.com/groups/183457429657732/
Amazon Author Page: http://amzn.to/1nFS0og
Twitter: https://twitter.com/browncarole212
BookBub: https://www.bookbub.com/authors/carole-brown
Instagram: https://www.instagram.com/browncarole212/?hl=en
Pinterest: http://pinterest.com/sunnywrtr/boards/
Goodreads: http://www.goodreads.com/user/show/5237997-carole-brown
Linkedin: https://www.linkedin.com/in/carole-brown-79b6951a/
Thank you again, Carole for visiting my website. I appreciate.
Please follow and like us: