An Interview with Author Glenda Young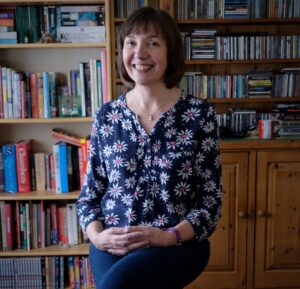 I'd like to welcome author Glenda Young to my website. Thank you, Glenda, for visiting my website and answering my questions.
I'm excited to share with my readers what I learned about Glenda's writing life. This fall is an exciting time for Glenda.
Congratulations, Glenda. The paperback edition of The Miner's Lass is a gritty historical novel, set in Ryhope, England, in 1919 and scheduled to be released on October 28th.
YouTube link: https://www.youtube.com/watch?v=ObZEqQBre_s&ab_channel=GlendaYoung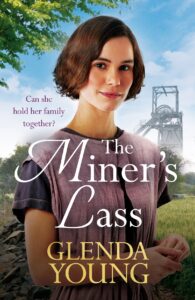 Q: Could you tell us about the novel?
A: A life of poverty in a cramped pit cottage is all that seventeen-year-old Ruby Dinsdale has known. Even with her father and younger brother working at the coal mine, money is tight. Her mother Mary is skilled at stretching what little they have, but the small contribution Ruby makes from her job at the local pub makes all the difference. So when Ruby is sacked, and Mary becomes pregnant again, the family's challenges are greater than ever.
When charming miner Gordon begins to court Ruby it seems as though happiness is on the horizon, until she uncovers a deeper betrayal than she could ever have imagined.
But although the Dinsdales are materially poor, they are rich in love, friendship and determination – all qualities that they will draw on to get them through whatever lies ahead.
Talk about excitement. Not only is Glenda Young's paperback edition of The Miner's Lass being released in October, but in November her debut cozy crime novel Murder at the Seaview Hotel will be released.
Congratulations, Glenda Young!
Q: Could you tell us about the novel Murder at the Seaview Hotel?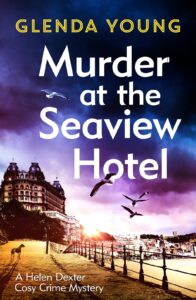 A: After the death of her husband Tom, Helen Dexter is contemplating her future as the now-sole proprietor of the Seaview Hotel.
There's an offer from a hotel chain developer to consider, but also a booking from a group of twelve Elvis impersonators, a singing troupe called Twelvis. Tom loved Elvis and for Helen this is a sign that she should stay.
But the series of mysterious events which follow, suggests that the developer is not going to give up easily. Then, shortly after Twelvis arrive, one of the group disappears. His body is found floating in a lake, with his blue suede shoes missing. Could the two be connected?
With the reputation of the Seaview on the line, Helen isn't going to wait for the murderer to strike again. With her trusty greyhound Suki by her side, she decides to find out more about her guests and who wanted to make sure this Elvis never sang again.
Q: What is the inspiration for this novel?
A: I have always wanted to write a comedy novel set in Scarborough, a seaside town in Yorkshire, England, that I adore. Once I had the comedy synopsis right, I gave it more weight by adding a murder, so there's a whodunnit going on too.
Murder at the Seaview Hotel is included on the website Tripfiction.com. They included the book on the website's list of "10 Great Books set in and around Hotels". It is an interesting site that matches books set in locations from all over the world.
https://www.tripfiction.com/ten-great-books-set-in-and-around-hotels/
You have also created a playlist to go along with this novel.
Q: Why did you choose the songs that you included in the playlist?
https://open.spotify.com/playlist/2omtcdVAgBTLhRzxl3L6rq?si=5baa5abacc36411e&nd=1
https://www.youtube.com/playlist?list=PLHuQDYU0Gc4z2QuzeHVPhrJQRlcnz2XWC
A: As the book is about a troupe of 12 Elvis impersonators, each chapter is connected to an Elvis Presley song. And the playlist is a fun way to singalong to the book as you read.
2006
The Fall of 2021 is an exciting time for Glenda. But now I'd like to travel back to 2006.
Part of Glenda's first post on her blog Flaming Nora she stated, "I love Coronation Street."
Q: What was it about the soap opera Coronation Street, that you loved so much, that you decided to write your first post?
A: I've always loved the show, ever since I was a little girl when I used to watch it with my mum and grandma. I loved the strong women, Elsie Tanner, Ena Sharples, Hilda Ogden and so on. It's the mix of comedy and drama that I still love and the dialogue from the writers is the best.
2012
Q: How long did you keep your poetry book in your drawer before you took it out of the drawer and put it on Kindle, and why?
https://www.amazon.com/Flaming-Noras-Poetry-Glenda-Young-ebook/dp/B00791OIDI/ref=sr_1_1?dchild=1&keywords=flaming+nora%27s+poetry+book&qid=1633641048&sr=8-1
A: The book of dotty poems and rhymes was something I had in a notepad that I used to carry around with me. I think all writers have a notepad on them at all times, in case inspiration strikes! It seemed a good idea to publish it on Kindle as a way to get it out into the world.
2014
I read on your blog that you started scrapbooking your clippings.
Q: Do you still scrapbook your clippings and, if not, do you still have your scrapbook from 2014?
https://flamingnora.blogspot.com/search?q=scrapbooking
A: I've only started scrapbooking since I've been published, so my scrapbooking started with the publication of the book "A Perfect Duet: The Diary of Roy and Hayley Cropper" (a Coronation Street fan book published in the UK by FBS Publishing).
Short Stories
Congratulations Glenda Young on your multiple award-winning short stories.
I will mention two. She won the True Stories Writing Competition and received second place in the Writing East Midlands Aurora Writing Prize.
Q: As there are quite a few writing competitions, and many have entry fees, do you have any advice on how to choose contests to enter?
A: I would advise choose your competitions carefully. Too expensive for you? Don't enter! Too cheap? Be wary of where and who you are sending your money to! Go for recognised short story competitions, start local and work your way up from there. It's excellent training and the thrill of winning can really change your life, as it did mine, when I was placed second in the Writing East Midlands Aurora Writing Prize which was huge for me, life-changing.
Thank you, Glenda for sharing this important information about writing competitions.
Q: You have had a lot of successes in writing short stories. If you could only choose one accomplishment, which one would you choose to discuss and why?
A: I would say my major accomplishment was being asked to write the first ever weekly soap opera for The People's Friend magazine, it's the world's longest running women's magazine. I've been writing the soap opera, Riverside, for 5 years now and love it. Riverside changed my life as I was signed up by a literary agent on the strength of my writing that she read in the magazine. And the agent then guided me to become a novelist and now, a bestselling author. Life has been unreal ever since!
Conclusion
Q: Do you have any news or updates you would like to share with my readers?
A: If I could give some advice, it would be to never, ever give up on your writing dream. I am 57 years old and have only recently, in the last few years, been published. Never, ever give up. Oh, and follow me on my website and sign up for my mailing list as I often have competitions and giveaways too, my website is http://glendayoungbooks.com
Thank you, Glenda Young, for visiting my site. I appreciate your visit. Please stop by anytime. I'd love to chat with you again.
Please follow and like us: