I'd like to welcome Peter Lingard to my website. I want to thank you Peter for taking the time to answer my questions.
Peter is one of the writers in the book, By My Side.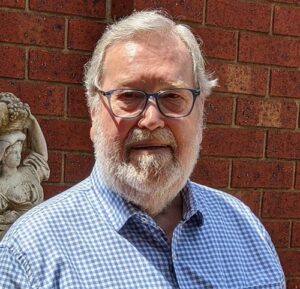 His story in the book is, "Yablonski's Two Step".
Could you tell us about the story? A boy lives in an overcrowded household, the inhabitants of which are considered lowlifes by others in the neighbourhood. Said boy (the eldest offspring) has tried to maintain some pride with his fists. When the sister of two brothers he has fought tries to get to know him, she finds it a struggle. The school dance provides an opportunity.
What was the inspiration for the story? I knew a lad whose parents kept a domestic menagerie in their yard, much to the annoyance of neighbours. I was almost socially inactive in my early teens until a girl made me her mission. It was easy to combine the two in a story.
Award-Winning Short Story
Congratulations on your award-winning story, "The Love Letter."
Could you tell us about this story? The story was inspired by a painting of the same name by Johannes Vermeer (it can be viewed at: https://www.rijksmuseum.nl/en/collection/sk-a-1595 ) When I saw the painting at an exhibition, a plaque stated there was no known story attributed to it. I decided to create one.
Anthologies
How many anthologies have your stories appeared and do you mind listing them? There have been several but I haven't kept a record.
What advice could you offer writers seeking publication in anthologies? Use Submittable and Duotrope to find calls for stories. Check the details of the call carefully and then submit to those that seek what you write. Some ask for payment so consider the cost before submitting.
Radio/Audio
I read that fifty of your stories were converted to audio fiction on a couple of radio stations. Congratulations!
How did you feel to hear one of your stories on air for the first time? I was proud and critical – as the reader didn't emphasise certain words the way I intended. Most sent me a CD of the recording which I though was great – but I've never played any of them since.
In researching for this interview, I read that audio fiction is increasing in popularity again.
What advice could you give for writers interested in getting their stories read on the radio? Again – check Submittable and Duotrope. My first stories were submitted to a radio station that advertised a call. The reader was a great guy who gave me tips about writing. (I started writing without any education in the field and made quite a few mistakes. He pointed them out to me so I could research them and improve my efforts.) Other stations apparently heard of my tales and invited me to submit.
Chop Logic – A short story written by Peter Lingard.
You have read your own work on the radio. That must have been exciting. More than likely I would have lost my voice three minutes before air time.
Did you enjoy reading your work on the radio and would you do it again? Not really. I sometimes coughed or stuttered and then became self-conscious. I'm not a pro.
Please follow and like us: