I'd like to welcome Rosemary J. Kind back to my website. Thank you, Rosemary, for stopping by and answering my questions.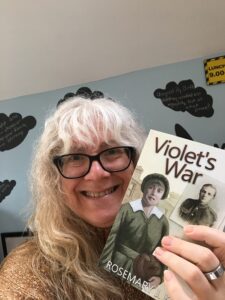 Congratulations Rosemary on your latest book, Violet's War and also receiving your first #1 banner on Amazon in the U.S.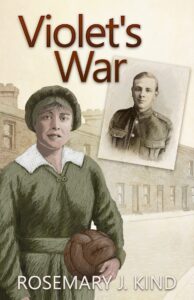 I am so excited that Rosemary shared a clip of her reading an excerpt from Violet's War. It is wonderful and thank you.
https://www.facebook.com/watch/?v=293955435760438
Q: Why did you include a song at the beginning of your chapters?
A: I did that originally in New York Orphan and got so much wonderful feedback from readers that when I saw an opportunity to link Music Hall Songs and other from WW1 to Violet's War I decided to do it again. Music can be so evocative of a period in history.
I read you wrote some book group discussion questions.
Q: How did you decide what questions to include?
A: Most of my writing has underlying themes that can be worth exploring further. I try to draw these out with some of the questions. I also ask my husband for his ideas, he can be very good at this for me.
Editing
I love your twitter quote: "Editing is like creating a beautiful sculpture out of a lump of rock. Hard work but very satisfying."
Rosemary shared the following link. Thank you, Rosemary.
This is the FB link to that https://www.facebook.com/rjkind/posts/3564157443671107 that was easier to find than Twitter.
Q: What is your editing process?
A: Editing takes place in a number of rounds. Once the book is written my critiquing buddies go through each chapter and give me their comments. I also re read and make pages of notes. The first round of editing is to make all the changes and developments that has thrown up. Then I do a full repeat of the same process. Round three of editing is from me reading the book as a whole to see if it works. Round four is to read the book aloud. It's amazing what I pick up then that I've missed before. Round five is to use a writing tool that picks up things such as overused words. Then it goes to the proofreader. After that I do another read through and make any changes the proofreader has thrown up. It takes a while, but it's worthwhile.
Follow-Up Book
Wow! I read that your goal is to have the follow-up book published approximately six months after the release of Violet's War. Yes, but that makes it sound harder than it is. I originally intended to write it as one book, but the story was just too big. I was part way into writing Violet's War when her husband, Billy, tapped me on the shoulder and said 'You can't leave out my part of the story. It needs to be told.' He was right and I had to do much more research to write the battlefield scenes. It meant that I already had enough outline material for two books rather than one, which sped up the writing process.
I want to finish to that timescale as it will be the 100th anniversary of the English Football Association banning women's football from its members grounds. That's important for the story.
Q: To help you reach your six-month goal, could you share the writing procedure that you use?
A: I'm a workaholic. I love writing. The two things go well together. It means I sit at my desk every available minute and work. In between I dog walk and as it turns out prepare to move house, but I'm only ever happy if I feel I've achieved something with my writing.
Thank you, Rosemary for stopping by and feel free to visit again. I enjoyed our chat.
Before you Leave
Thanks for visiting. If you haven't already please subscribe to my newsletter. Also use the share buttons to share this post with your friends on social media.
Please follow and like us:
Please follow and like us: