I'd like to welcome Carole Brown to my website. Thank you, Carole, for taking the time to answer my questions.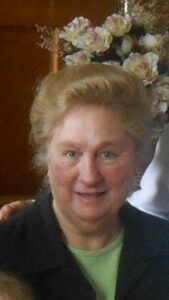 Carole is one of the writers in the book, From the Lake to the River: Buckeye Christian Fiction Authors 2018 Anthology.
Her story in the book is, "Christmas Angels".
Could you tell us about the story?
I actually wrote it as a very short story several years ago, but when the Mount Zion editors wanted to put together an anthology, I updated the story, making it a bit longer and offered it. It was accepted.
I love the WWII era, and this touching story of a young mother, with no money, husband missing and faith wavering, has spoken to souls who are suffering in more ways than one. It's a sweet story of a mother and child surrounded by caring souls with a happy ending. And don't we all love that?
What was the inspiration for the story?
My mother's stories from the WWII era. Pictures, and the inspiration and love inside me for this era encouraged me to write this tale.
An Award-Winning Novel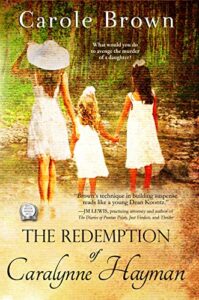 Congratulations on the multi-awards received for your debut book, The Redemption of Caralynne Hayman.
Thank you!
I believe I read your husband gave you the idea for the story. That is wonderful.
Could you tell us about the novel?
About the book:
How far would YOU go to avenge the murder of a daughter?
Caralynne Hayman is angry and bitter over the abuse and death of her eleven-year-old daughter from the hands of her religious group, The Children of Righteous Cain. When her husband suffers a sudden heart attack, she does nothing to help him. In her eyes someone needs to pay, and if that means all of the men in the group, then so be it.
Dayne MacFarland is sent away to college by the senior elder of the group to learn ministry. When he returns after finding salvation, determined to bring the truth to the people he's known all his life, he rediscovers Cara and realizes the love he once felt for her is still deeply embedded within his heart.
Dayne faces men unwilling to turn their backs on the cult training he despises. Cara faces men who follow their leader in abuse toward their wives and the young girls of the group. Cara is considered rebellious and inappropriate to befriend. Dayne is the apple of Elder Simmons' eye—until he takes a stand against their teachings.
Can Dayne's love for Caralynne bridge the gulf of anger and bitterness that divides the community? Or will Caralynne's deadly secrets prove too high a price for her redemption?
(It is available in print, kindle and audible)
The list of Awards and finalist nominations for The Redemption of Caralynne Hayman that I found here are listed below:
Winner of the 2015 USA Best Books Award
A Christian Small Publishers Association Winner in General Fiction for 2015
A Laurel Award Finalist
A Selah Award Finalist
A Genesis Semi-Finalist
OK-RWA International Digital Awards 2014 Finalist
Epic's ebook Awards 2015 Finalist
After winning the Christian Small Publisher Book of the Year Award and the other wins and nominations, were you intimidated to start another novel?
No, I wasn't. This was my debut novel so I entered it in quite a few contests and promoted it a lot. I didn't enter as many contests after that (a few though), but I still promote fairly heavily.
Each of my books are different, and although I had readers ask for a sequel to The Redemption, it hasn't been the right time yet. Maybe someday.
Series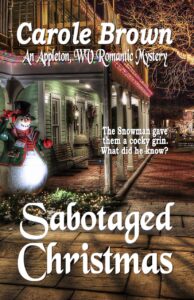 When you had the idea for Sabotaged Christmas did you already know you were going to write a series?
Yes, I did. My agent suggested I write a series of romance books, which I did. Three of them. But it wasn't fun or my genre. After they didn't go anywhere, I changed them to Romantic cozy mysteries, and they have been very successful. Book five in this Appleton, WV Romantic Mystery series will be released this year. Hopefully book Six, next year.
Do you rely on any procedures to keep track of shared details in a series?
Yes, I do. I find my trusty notebooks and files work great for me. Sometimes certain things carry over from book to book, but most times, I still do quite a bit of research even though many things will only appear once or twice in the book. I try to be as authentic as I can.
In this series, many of the characters appear in different books, although there are always two new protagonists.
I always have a mystery and a romance, and try hard to make each item appear evenly throughout the books.
The community is a close-knit town. Friends are loyal and caring. Of course there have to be the "bad guys."
It's been a fun series to create, and now that I'm nearing the end, I find myself drawn to other possibilities to add to it.
History
How did you decide to write a series set during World War II?
This series was on my heart for a long time. As I said above, I love the WWII era. The courage and bravery of both the men and women, the clothing, the language, and so much more.
My mother was one of the inspirations for writing in that time period. She lived through it, and the tales she told me, the pictures I saw drew me and inspired me to write about it. I love red hair and boarding houses fascinate me, so those two things were a "for-sure" item.
Then there was an older gentleman who was supposedly a civilian spy which gave me the idea of adding spies to the stories. Three Spies, Three Red Headed Women, Three Romances
Thus, The Spies of WWII was born:
* With Music in Their Hearts
* A Flute in the Willows
* Sing Until You Die
Do you have any research tips to share with writers that want to write historical stories or novels?
Do the research.
Study the era and everything about it that you can think of. You never know what you may want to add to your story, and readers usually notice when your details are wrong. Get it right.
A Children's Book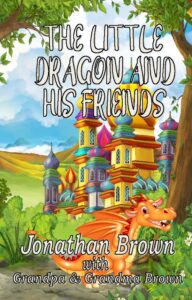 The children's book, The Little Dragon and his Friends was a family collaboration.
How did the project go from idea to publication?
My grandson (age eight at the time) was riding back to our home with me to spend the weekend with us. He was getting a little bored on the ride so I suggested we create a story. He's a very imaginative boy, and it caught his attention quickly. I'd barely started it when he took over and told me the story of a little dragon, the friends he gained, the other creatures who were helped and the fun and serious adventures the Little Dragon and his friends experienced.
I asked one of my editors if they'd be interested in publishing the book, and they gave me an enthusiastic YES!
It was a fun endeavor to experience with him, and I hope it encourages hm to continue to use his talents.
Conclusion
Do you have any news or updates you'd like to share?
Yes, thank you!
I have the fifth Appleton, WV Romantic Mystery, THE GOLDEN TOUCH, releasing the last of May, 2021.
I also have the first book in my Nursery Rhyme Series: Catch Me If You Can, releasing this summer. This book is a suspense with a touch of romance in it. There will be three books in this series with each book carrying its own suspense, but the romance will carry through all three books.
I would love having your readers follow me on my different social media pages. Readers are some of my favorite people!
I hope your readers will check out my books here (My Amazon Author page):
https://www.amazon.com/Carole-Brown/e/B00EZV4RFY/ref=dp_byline_cont_pop_ebooks_1
Please follow and like us: