I'd like to welcome JPC Allen to my website. I also want to thank you JPC for taking the time to answer my questions.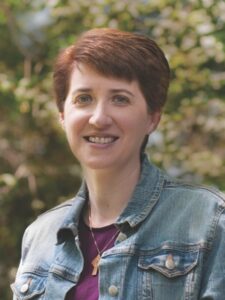 JPC is one of the writers in the book, From the Lake to the River: Buckeye Christian Fiction Authors 2018 Anthology.
Her story in the book is "Debt to Pay".
Could you tell us about the story?
While out cutting wood in Wayne National Forest, a teenager and his older brother stumble across a dying millionaire, who claims his private plane was rigged to crash. Do the brothers seek justice or cash in?
What was your inspiration for the story?
I'm a huge fan of film noir, the style of crime movies made from 1940 to 1959. Before writing "Debt to Pay", I had watched Inferno from 1953. In this movie, a wealthy businessman who has broken his leg is left to die in the desert by his cheating wife and her lover. The movie follows the businessman's efforts to survive and get rescued, and the murderous couple's attempts to fool the cops and make sure the businessman is dead.
The plot inspired me to ask questions. What if the businessman doesn't know who tried to kill him? What if a teen and his older brother find him after a plane crash? My story took off.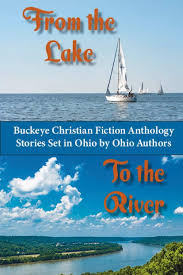 I'm always curious how a short story finds its way to publication in an anthology. Do you mind sharing the journey of "Debt to Pay" from idea to publication?
The president of my American Christian Fiction Writers chapter in Ohio, Michelle L. Levigne, proposed creating an anthology of Christian fiction short stories, all set in Ohio. I chose a YA mystery because that seems to be the genre my mind automatically turns to. I love rural settings, so I placed my story in Wayne National Forest. Anyone who wanted to submit a story for the anthology could do so. During the editing process, Michelle and another author Tamera Lynn Kraft created Mt. Zion Ridge Press. From the Lake to the River was the first book their new press published.
I believe that I read that JPC Allen is your pen name. If so, once you chose to use a pen name, how did you choose this name?
My married name is Jennifer Allen. That's only slightly more memorable than John Smith. I figured readers would never find me among all the hordes of other Jennifer Allens on the internet. So I wanted to concoct a pen name that was memorable but similar to my own. Most of my favorite authors have initials in their names—C.S. Lewis, G.K. Chesterton, P.G. Wodehouse, J.R.R. Tolkein. To honor those authors who have been such an inspiration to me and to make it easy for readers to recall, I chose JPC Allen.
You started https://jpcallenwrites.com website in 2016. I'm impressed with the writing tips you offer on your website. When planning your site, how did you decide to focus on writing advice as your major topic for the website?
This was completely God-inspired. In 2016, I kept reading how I needed a social media presence although I was an unpublished author. I couldn't imagine what I would post about. I only got a FB page when I discovered that was the only way to communicate with other members of my ACFW chapter. I was so discouraged. Driving home on summer evening, I was talking to God about this problem. I had read that an author website should be a service to readers. What kind of service could I offer? And it very quietly came to me—I could offer writing tips to beginning writers. I started very timidly, but my confidence grew as I blogged, and now I offer writing tips and prompts as well as hosting other authors' interviews and guest posts.
Congratulations for being a 2016 Semi-Finalist, in the American Christian Fiction Writer's, Genesis Contest! Could you tell us about ACFW and the Genesis ?
American Christian Fiction Writers supports writers interested in writing for the Christian fiction market with all kinds of resources from conferences to a blog. The Genesis contest is for unpublished writers. I submitted the first fifteen pages of a YA mystery I'd been working on. Not only did I make it to the semi-finals, but the judges sent back sheets with corrections, which helped me understand my craft better.
What is Country Noir?
It's a variation of film noir. Film noir has some specific components, not all of which are included in a single movie. Authority figures are often corrupt. A weak male character is led astray by a manipulative, scheming female character, called a femme fatale. Sometimes, a moral, strong female character combats the femme fatale to rescue the weak male. The male character is doomed by fate or his past. Another variation is the couple on the run from the police. Sometimes they're innocent, sometimes they're guilty. Or a gang of crooks plans the perfect heist, then Something Goes Horribly Wrong.
Most of these stories are set in cities, which are often portrayed as corrupt, violent, and soul-killing as the characters living in them. Country noir takes these themes and places them in rural area. One of the reasons I like Inferno is its setting. The desert is shown both as an enemy and an ally. The businessman has to figure out how to work with it, or it will kill him.
Bio
JPC Allen started her writing career in second grade with an homage to Scooby Doo. She's been tracking down mysteries ever since. A former children's librarian, she is a member of ACFW and has written mystery short stories for Mt. Zion Ridge Press. Online, she offers writing tips and prompts to beginning writers. She also leads writing workshops for tweens, teens, and adults, encouraging them to discover the adventure of writing. A lifelong Buckeye, she has deep roots in the Mountain State. Join the adventure on her website, Facebook, Instagram, or Goodreads
Please follow and like us: