I'd like to welcome Carole Brown back to my website. Thank you, Carole, for taking time to answer my questions.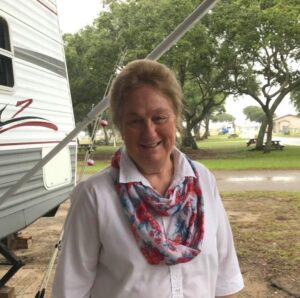 I am excited to let my readers know Carole has recently released her latest book, The Golden Touch (An Appleton WV Romantic Mystery Book 5)
Q: Could you share some information about your newest book?
A: The Golden Touch is the 5th book of the Appleton, WV Romantic Mysteries. They don't have to be read in order, but why not? 🙂 Seriously, the characters taken from the imaginary small town of Appleton, where everyone knows everyone and their business (or think they do). I usually have the main characters plus some previous and new ones show up in each book. Two characters I choose to showcase in the next book. Here's what some people have said about Appleton, WV:
I've fallen in love with Appleton and it's quirky, fun, real characters.
Through her describing the characters and scenes I almost could imagine being there.
Set in a small town in West Virginia at Christmastime, you will feel the beauty of this Appalachian area.
The town and its' description will make you wish you could visit and join in all the festivities.
I wrote the first three of these books several years ago as romance books (at the request of my agent), but when they didn't go anywhere, I rewrote them at the request of an editor as romantic mysteries, and they took off. I've added five so far, and who knows how many more. At least one more will be coming.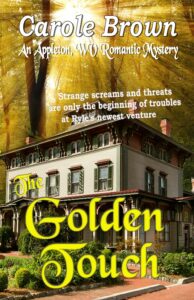 Q: I love your two major character's names. How did you choose their names?
A: I adore choosing names for my characters!! I have a "baby name" book that I use a lot. Choosing the right names, and their meanings, are important to me, so when I choose them, readers can rest assured I've worked at getting them right for the story.
Ryle comes from the word Rye which is a cereal plant. It's a tough plant that tolerates poor soil and low temperatures. Ryle Sadler is a tough (although smart and gentle) character. It's so perfect for this character as you'll catch glimpses of what all that means as you read the book and see why I think it fits him.
Jazmine (Jazzi) means God's gift, coming from the Jasmine flower. It's French and Persian. As the Jasmine plant is prominent in the book (which I really didn't know was going to happen when Jazzi appeared in Book 4 of the series. Lol) it was fitting. And a tidbit: Ryle loves the Jazmine flower.
I love both names!
Q: With Covid restrictions lifting, do you plan on having any public book signings? Have you planned any events on your Facebook fan page?
A: Not right now. I will/have had/three Facebook launches though.
Congratulations on your recent interview on YouTube. I see the video is from the ACFW Ohio Chapter – Meet the Author Series.
https://www.youtube.com/watch?v=7ZoQHUHYAVw
To learn more about Carole, please check out her bio:
Bio:
Besides being a member and active participant of many writing groups, Carole Brown enjoys mentoring beginning writers. An author of ten books, she loves to weave suspense and tough topics into her books, along with a touch of romance and whimsy, and is always on the lookout for outstanding titles and catchy ideas. She and her husband reside in SE Ohio but have ministered and counseled nationally and internationally. Together, they enjoy their grandsons, traveling, gardening, good food, the simple life, and did she mention their grandsons?
Personal blog: http://sunnebnkwrtr.blogspot.com/
Facebook: https://www.facebook.com/CaroleBrown.author
FB Fan Page: https://www.facebook.com/groups/183457429657732/
Amazon Author Page: https://amzn.to/38Ukljnhttps://amzn.to/38Ukljn
Twitter: https://twitter.com/browncarole212
BookBub: https://www.bookbub.com/authors/carole-brown
Instagram: https://www.instagram.com/browncarole212/?hl=en
Pinterest: http://pinterest.com/sunnywrtr/boards/
Goodreads: http://www.goodreads.com/user/show/5237997-carole-brown
Linkedin: https://www.linkedin.com/in/carole-brown-79b6951a/
I want to thank you again, Carole for your time. It was a pleasure to interview you.

Please follow and like us: